How Long Will The Market Be This Hot?
Posted by Michael Vonderau on Monday, August 2, 2021 at 4:25 PM
By Michael Vonderau / August 2, 2021
Comment
How Long Will The Market Be This Hot?
By Mike Vonderau, Lead Agent
The Vonderau Team at Howard Hanna
"How much longer do you think the market is going to keep going like this?" Lately that is one of the most common questions I receive from friends and neighbors. While no one knows the answer to that question with complete certainty there are some indicators that give us an idea of where the market is heading.
How we got here in the first place
Most people are aware that real estate markets across the country have posted record high sales prices, though many people aren't exactly sure why. The soaring home prices this spring can be attributed mainly to our historically low housing inventory coupled with rock-bottom interest rates which have in turn increased buying power. The limited supply of homes has meant that buyers have had to compete against one another in multiple offer scenarios in an attempt to land their dream homes. These multiple offers situations have generated sale prices significantly over the asking price.
How hot is hot?
In the Cleveland westside suburbs, for home sales that have closed in the past thirty days, homes have been selling at an average of 103% of list price. Over the last thirty days North Ridgeville has posted the highest average percentage over list price at an average of 105%. In Lakewood one home sale set a high-water mark for the west side suburbs at 140% of list price. All of this is the result of limited housing supply and increased buying power.
How things could change
While sellers are certainly benefiting from the current market scenario most agents agree that things can't continue on like this indefinitely. And while there is ample reason to be confident that we're not in the midst of a housing bubble (click here to check out one Bloomberg article in particular) you can be certain that things will change at some point.
The change will either come in the form of decreasing demand (which doesn't seem very likely at this point) or increasing supply. We are already seeing signs that the latter is in motion. Check out the graph below that shows the steady increase in market inventory nationally since January.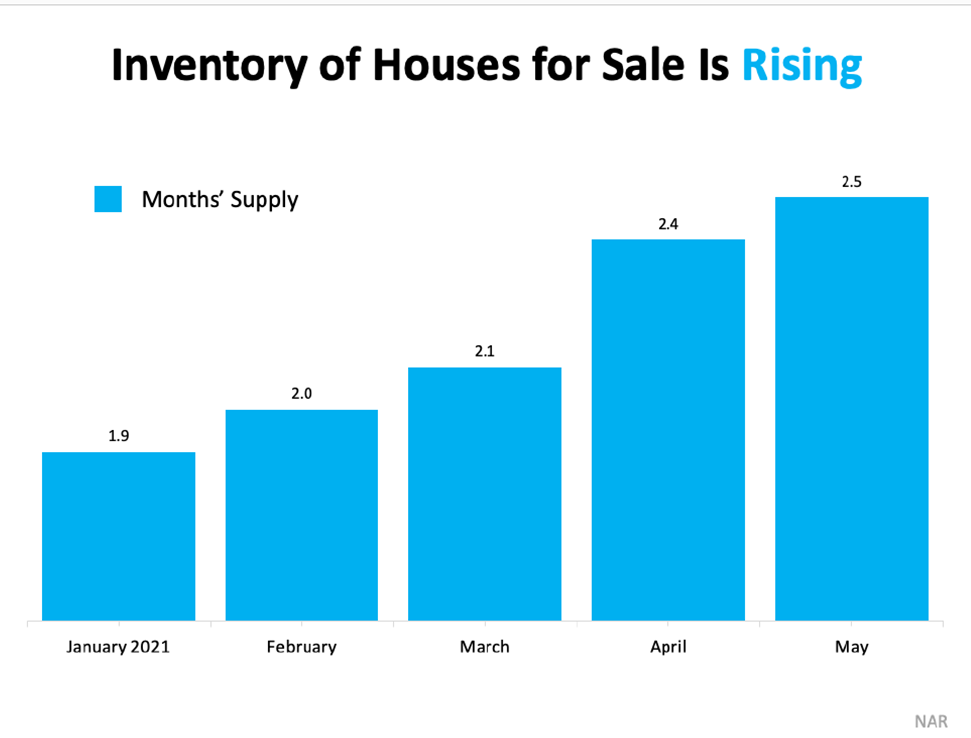 While we're still a LONG way away from a "balanced market" (which is typically understood to be a 6 month inventory supply) it is likely that the inventory shortage has bottomed out and is now on the rebound. This may have to do in part with builders ramping-up production and the increase in COVID vaccination rates (and lifting of mask requirements) but it also can be at least partially attributed to homeowners responding to the elevated sale price by opting to sell now in order to capitalize on the hot market. We've had several homeowners reach out recently saying that they weren't planning to move for a few years but in light of the current market they'd like to get their house up for sale ASAP – even at the ground level we are seeing a market response to these elevated sales prices. The more people that respond this way the more inventory we'll see hit the market in upcoming months.
You didn't miss the boat
If you're looking to sell within the next year you may be wondering if you've missed the boat. Don't worry, you likely did not. As much as we are seeing inventory steadily build back, sale prices aren't likely to dramatically change overnight. You still have some more time to get your home on the market and capitalize on these historic prices — but don't wait too long. The graph below gives you an idea of the historical trend in inventory going back 20+ years. As you can see, even with inventory steadily increasing we are a long way away from having enough inventory to meet current demand.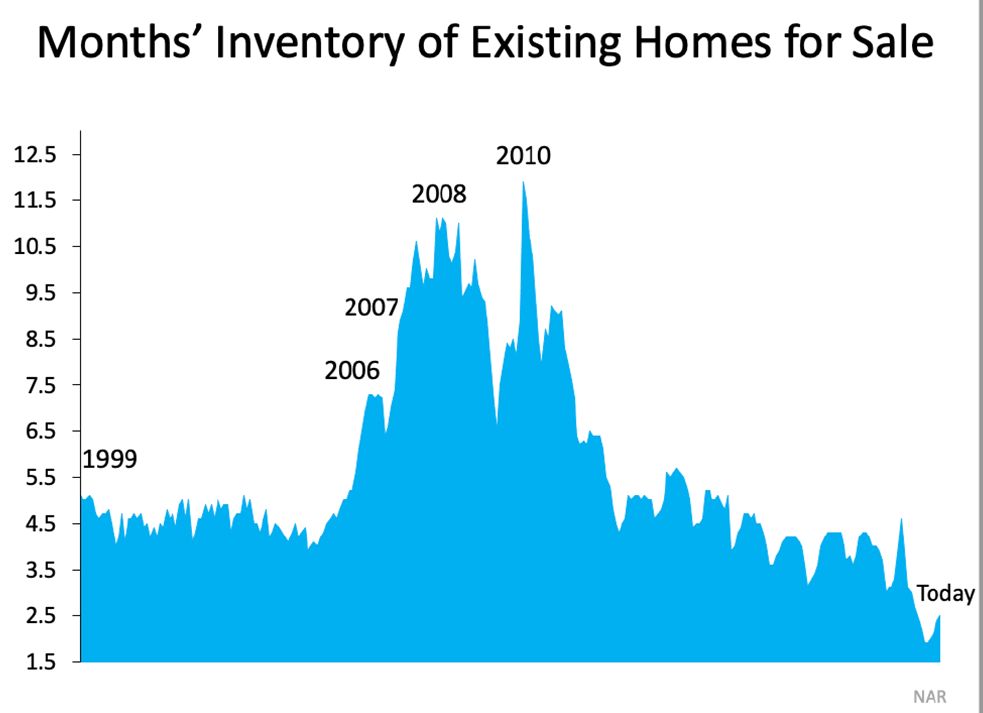 If you're interested in a consultation about what price you could get for your home and what you need to do in order to prepare it for market give us a ring at 440-871-3050 or email me at [email protected] and we'd be happy to set up an appointment.